Centrifugal Magnetic Filter
FOODIE II

認證
The difficulty to remove dusty, powdered particulates
Precision machining manufacturers work with grinding machines. Grinding process produces a large amount of grinding sludge that is usually composed of fine particulates in the size of microns and is hard to be filtered or extracted.
The most common method to clean the grinding sludge is thereby the replacement of the entire coolant tank. However, for workshops who use central coolant tank, it is exhausting for them to tackle replacement, and for factories who deal with high producing rate, it is neither industrial or economical to replace the coolant frequently.
By separating the grinding sludge with this Centrifugal Magnetic Filter, the iron powder and dust can be instantly extracted and discharged without the need of your manual cleaning and replacement.
Our product is to conform to ESG sustainable development goals, realize ESG's circular economy, be environmentally friendly, and reduce carbon tariffs.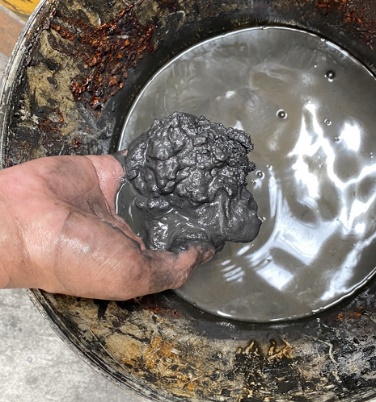 Needless of CNC machine downtime
Extracts fine, magnetic sludge such as the cast iron powder
Applicable to both neat oil and water-soluble coolants
Centrifugal Filter
5200 Gauss Magnetic Separation
Down to 5 microns filtration
Free of installation
Effectively reduces replacement and labor
Workflow of model FOODIE II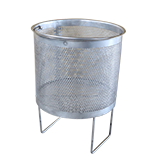 Front Coarse Filter

Capacity of 5.5L, the bucket intercepts large particulates like metal chips.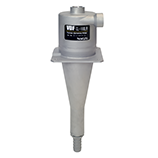 Vortex Dynamic Filter

The filtration removes up to 90% of 10μm particles in water-soluble cutting fluid and 80% in oil-base cutting fluid. The cyclone effect eliminates the need to replace filter core; i.e., no consumable material needed. No bubbles are formed as it does not blend in air.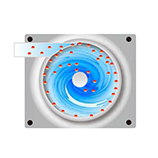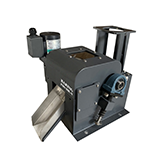 Magnetic Separator

The roller is power-driven to improve draining. Magnetic metals, such as iron, are separated from massive quantity of powders or particles, making the design perfect for highly magnetic separation in large flow rate.
The device generates extreme magnetic field up to 5,000 Gausses, significantly efficient in removing tiny metal particles.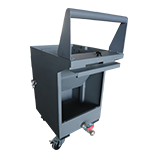 Sludge Cart (Optional)

The sludge separated by the magnetic separator will be discharged directly into the sludge cart. The cart is able to dry the sludge and collect the coolant residual for recycling and reuse.
Step1
Chips and sludge are sucked in through the inlet pipe
Step2
Big particulates will be remained in the front filter
Step3
Finer particulates pass into the vortex dynamic filter
Step4
Sludge gets filtered and delivered to the magnetic separator
Step5
Magnetic separator discharges the extracted sludge
Step6
Clean coolant returns to the tank
Installation
This centrifugal magnetic separator is fully assembled and installed before delivering to you. You can simply unpack it, connect the power and activate its operation.
Maintenance
Regularly maintain the magnetic separator by cleaning the sludge residuals being accumulated around the roller.
All our equipment is smartly structured with an openable front door for users to maintain conveniently at any time.
| | |
| --- | --- |
| Model | FOODIE II |
| Machine Size(L*W*H) | 750*600*1250mm |
| Filter Capacity | 5.5L |
| Net Weight | 77kg |
| Max. Pump Capacity | 45 - 90 Lit. /Minute |
| Air Pressure | 0.5 Bar - 8.3 Bar (7.25 Psi - 120 Psi) |
| Voltage | Single Phase 110V/220V, 60/50Hz |