HC FENG, the leading manufacturer of coolant filtration systems in Taiwan was founded in 2013. Our team was firstly built by a group of technicians with years of skills and experience in the field of metalworking industry and machine fluids.
Through observation in precision machining plants, factories and workshops of aerospace, automobile, machine tools, medical parts, die-casting molds, bicycle parts, fitness equipment, it came to our attention that untreated coolant oils would cause various issues. General machine tools were not equipped with recycling devices that helped maintain the quality of cutting fluids. When way lube oils and other contaminants flowed into coolant tanks, unwanted problems as rancidity, stink, emulsification, drop in quality for machining, decreased tool life and health concerns such as skin allergy would all occur. As a result, burdens of disposing of wastewater and new coolant replacements became concerns for many. We saw, we felt, and we decided to do something to help improve the industrial working environment. We designed our first product – model BEST-1 coolant purification equipment, a unique coolant oil separator with an ozone purifier, capable of eliminating and controlling bacteria growth and purifying foul odor that effectively extends the life of coolants.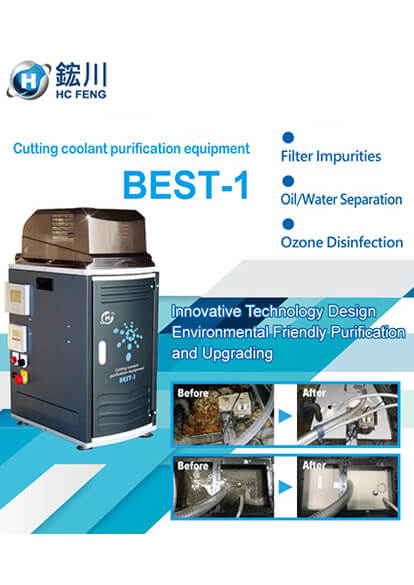 Sticking forefront technically, HC FENG has earned a reputation globally and is confident to satisfy different market demands by providing diverse filtration systems from coolant tramp oil separation, odor purification, bacteria minimization and to both fine and coarse particulates filtration. With continuous development in product innovation and technology integration, we have promoted our competence and increased our visibility in the market as well as ensuring product features, service, and technical maintenance are kept most user-friendly, cost-saving and eco-friendly. With our equipment, users will achieve reduced coolant replacement time, reduced cleaning time and minimized manpower time on activities, reduced coolant expense, reduced coolant discharge cost, maintained coolant working specification for consistent machining performance, and nonetheless, a friendlier environment.