Chips and Sludge Removal Machine
FOODIE

認證
Are you still cleaning CNC machine coolant tanks with hours of labor?
Particulates produced during fabrication will drop into the coolant and act as an abrasive to significantly reduce tool life. Thus, machinery operators must regularly replace the coolant tank with new clean fluid and get rid of the debris, chips or sludge.
Foodie chip vacuum cleaner can solve the problem.  No downtime, no consumables, air pressure drive without a plug, quick filtering, moveable, filter accuracy adjustable.  Your best choice.

Our product is to conform to ESG sustainable development goals, realize ESG's circular economy, be environmentally friendly, and reduce carbon tariffs.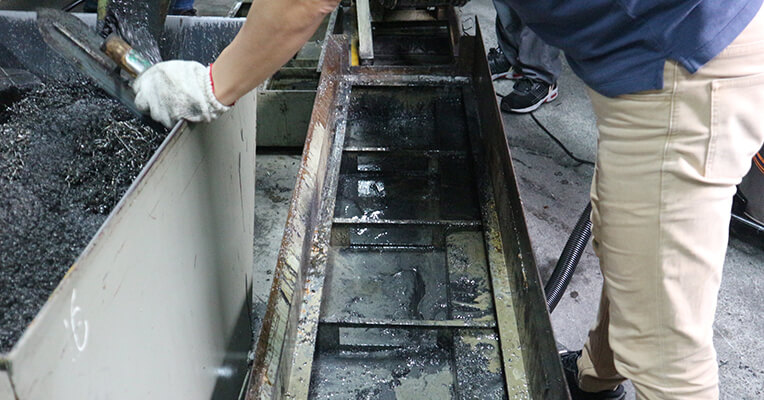 Needless of CNC machine downtime
Filters all types of chips including the non-magnetic
Applicable to both neat oil and water-soluble coolants
Air driven, 56KG light weight and vertical structured
Airtight fast dry feature for recycling chips conveniently
Optional filtration accuracy
Effectively reduces replacement and labor
How many steps are required to conventionally clean a coolant tank?
Step2
Tank uninstallation
Step3
Dragging the tank to a workable space
Step6
Replaces with new coolant
Step7
Concentration adjustment
With an efficient filtration equipment, your work can be much simpler in maintenance while saving costly disposal.
Filtering

FOODIE is capable to tackle water-soluble oil and neat oil machining with all types of materials. The usual achievement of this cleaner is filtering aluminum, copper, plastic, steel, iron, or brass chips from a 300 liters tank in 2 minutes with only 5% of residuals left. Also, there are 3 different specifications of the filter mesh optional.
Pump

Equipped with a double diaphragm pneumatic pump, FOODIE is built up with no electric parts to support safe, long lived operation. No overload and spark issues while giving powerful and efficient performance to remove the particulates in your coolant tanks.
Consumables

Thanks to the washable and reusable filter baskets with stainless steel made filtering mesh, there are no consumables required for this model Foodie unit. We have also extended the lifetime for parts by using qualified, energy saving material, tested quality such as the robust pipelines.
Maintenance

Air operated pump requires less cost and attention to maintain compared to other types of pumps. Users can easily replace the inner parts without the need of purchasing a brand-new pump.
All our equipment is smartly structured with an openable front door for users to maintain conveniently at any time.
| | |
| --- | --- |
| Model | Foodie |
| Machine Size(L*W*H) | 420*600*900mm |
| Filter Capacity | 12L |
| Net Weight | 56kg |
| Max. Pump Capacity | 90 - 180 Lit. /Minute (47.49 Gallon per min) tested by water |
| Air Pressure | 0.5 Bar - 8.3 Bar (7.25 Psi - 120 Psi) |
| Filter | 380 ㎛ / 190 ㎛ / 830 ㎛ |
| Filter Material | 304 Stainless Steel |